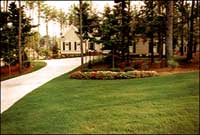 Regardless of the condition of your lawn, it will respond to a custom designed program from Stonegate Lawns. Our services will turn a worn, weed filled lawn into a thick, lush, green lawn in just one season. Your new turf will be full of vigor and color.

Suited to protect both residential lawns and corporate landscapes, Stonegate will consult with you and develop a plan specific to your needs. Look at some example programs to get an idea of the thoroughness of our planning.



Our granular, controlled release fertilizers give your lawn the exact nutrients it needs to develop & strengthen the root system and maintain a deep green color. Our weed and pest control agents keep unwanted visitors out. Say goodbye to dandelions, clover, dalis grass, brown spots caused by chinch bugs, and other problems that you may currently be suffering.

Request a free, no-obligation lawn analysis by calling us or filling out the request form and a Stonegate representative will inspect your lawn and leave a detailed report of its condition, along with a no-obligation price quote. You'll be impressed at what we can do for your lawn at an affordable price.